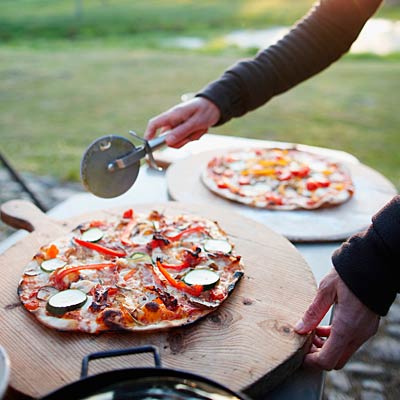 Pizza dough is made in nearly the same approach as white bread – by hand or using a food processor, besides that you just add olive oil and a little bit sugar to the flour mixture and there isn't a second rising. Utilizing the mixer, and a single rise, the dough nearly melts into form when you stretch it. Additionally, you can alter the dough while it is mixing – just a little flour here, a little bit of water there – which helps make it a very reliable technique.
Apply some olive oil everywhere in the dough. In the meantime, make the tomato sauce: Add the salt to the can of tomatoes and puree with an immersion blender, or transfer to a blender or meals processor, and puree until smooth. High with olive oil, contemporary rosemary, sea salt and 1 thinly sliced potato.
Pureed San Marzano canned tomatoes (if you cannot discover San Marzano, Italian plum tomatoes are the subsequent best thing!), garlic (minced in my garlic press), a touch of olive oil, salt, and pepper. Once I worked at Pizza Hut eons ago, we often warmed the mixing bowl with hot water before we added any ingredients so that it wouldn't chill the water when it was added to the bowl.
For a unique tackle ham and cheese, add sliced apples and pizza dough. Semolina flour has a high burn point than regular flour, and ensures that the dough will not stick with the peel when transferring the pizza to the oven. Bake at 400° for 25-half-hour or till crust is flippantly browned.